Map & Location
Reading Therapies Group meetings are held in The Cedars (was Black Horse House) at the University of Reading Whiteknights Campus. For anyone using sat navs please use RG6 6AX for the location. The Cedars is building 55 and there are 3 car parks within easy walk P4, P9 and P15.
How to get to Whiteknights Campus
The University is close to the M4 motorway allowing easy access by car. Reading's railway station has high speed links to and from London Paddington, as well as regular services to and from other cities around the UK. There are direct services to and from both London Heathrow and London Gatwick Airports. Trains from Paddington to Reading run approximately every 15-20 minutes throughout the day and the average journey time is around 30 minutes.
Directions by Car:
On Campus directions to The Cedars (was Black Horse House) - Building 55
From Whiteknights Main Entrance on Shinfield Road to Parking 4:
Drive past the security kiosk and continue on Queen's Drive.
At the top the road bends right take the first junction to your left.
Drive straight on with the campus buildings on your right and parking area 2 on your left.
This road ends in parking area 4. Building 55 is behind Building 29.
To park in P9 or P15 continue on Queen's Drive until the left turn past car park 8. If you get to the mini roundabout you have gone too far. Instructions from car park 8 are the same as those from the Pepper Lane Entrance directions
From Pepper Lane Entrance to P9 or P15:
Go past the security kiosk and turn left at the first roundabout.
Turn first right and pass car park 8.
Follow the road down and observe the stop sign.
Follow road around to right past the Chaplaincy.
Take next left. Car park 9 is in front of you.
Follow the road round to the left for car park 15.
(Follow road round for Disabled Parking in front of building 55)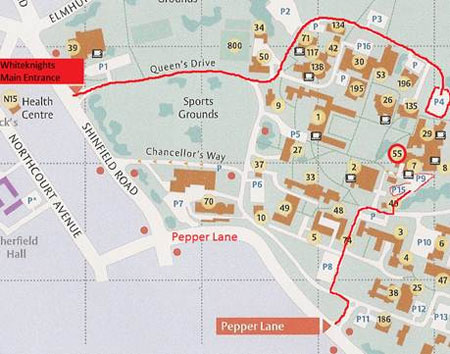 For further directions on how to get here from oxford and the M4 please use the following link:http://www.fmd.reading.ac.uk/docs/rcsCaterConf/BHH_Directions.pdf
Pepper Lane can be accessed from Wilderness Road/Elm Road (B3350) which joins Wokingham road (A329) with Shinfield Road (A327) at the Whiteknights Retail Park.
Using Satellite Navigation (like "Tom Tom" or "Garmin")
If you are using a sat nav to find your way; enter the post code RG6 6AX when you are at the main gate then follow the "directions on campus" to find building 55.
Public transport from Reading Station To Whiteknights campus (Shinfield Road):
Once you arrive at the train station you will need to get a taxi or bus to the University campus. The bus stand and taxi rank can be found outside the station (you will need the exact money as the buses do not give change).
Numbers 9, 19, 20 or 21* (Stand SK). The number 9 stops at the Shinfield Road entrance and that numbers 19, 20 and 21 stop on campus. Please see their website for uptodate information: www.reading-buses.co.uk